Nick Clegg visits fire bombed Nottingham police station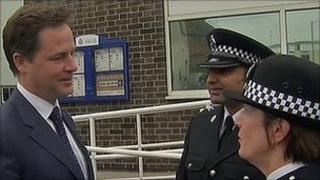 A Nottingham police station which was fire bombed during widespread violence has been inspected by Deputy Prime Minister Nick Clegg.
A gang of up to 50 people threw petrol bombs at Canning Circus station on Tuesday night, causing minor damage.
Mr Clegg praised the community for bouncing back quickly and the police for their work to calm the trouble.
Fifteen people have been charged with arson with intent and violent disorder in connection with the incident.
More than 100 people have been arrested and nearly 80 charged over the disturbances in Nottingham.
Support 'humbling'
One of those already dealt with by the courts was an 11-year-old girl who admitted criminal damage and attempted criminal damage to shop windows.
Mr Clegg was met by Chief Constable Julia Hodson and Insp Anwaar Ahmed.
The Deputy Prime Minister said he was impressed by how quickly the station had been repaired and the attitude of so many residents.
But he warned the troubles highlighted wider problems in society.
"We have to ask ourselves why an 11-year-old girl or young teenagers feel they have so little stake in the community that they go around trashing it.
"We need to make sure we give people opportunities... that will create a sense of responsibility that was so absent in these horrific events over the last couple of days," he said.
Separately, the Nottinghamshire force said it had been "humbled" by the public support, which has included Facebook sites, gifts of cakes and personal thanks to patrolling officers.