Riots: Police patrols to continue in Nottingham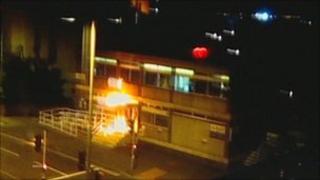 Police have said "high visibility" patrols will continue over the weekend after recent disorder in Nottingham.
Officers said there had been no major disturbances reported since Tuesday night, when five police stations were attacked.
A total of 108 people have been arrested with 75 charged over the disturbances.
Hundreds of police officers, PCSOs and specials will continue to patrol the streets on Saturday and Sunday night.
Assistant Chief Constable Ian Ackerley said: "The honest, decent law abiding majority who are coming into the city this weekend will be given every protection and reassurance by my officers.
"To anyone thinking about causing trouble this weekend, my message is equally simple: we will arrest you and put you before the courts and you will pay the consequences for your actions.
"Nottingham is a fine and proud city. Nottinghamshire is a fine and proud county. We plan on keeping it that way."
A gang of about 30 people damaged cars in the St Ann's area on Friday.
Stations in The Meadows, Bulwell and St Ann's were targeted, while Canning Circus station was set alight after fire bombs were thrown at the building on Tuesday night.
Mobs of up to 50 people also damaged cars, pubs and shops in areas including Basford, Mapperley and Radford.
Deputy Prime Minister Nick Clegg visited Canning Circus police station on Friday and praised the actions of officers during the disorder.