Nottingham Riots: Further arrests over disorder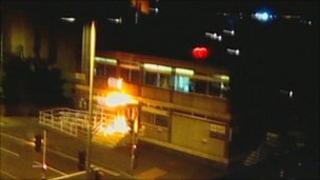 Police have made further arrests in connection with two nights of disorder in Nottingham.
A total of 117 people have been arrested with 75 charged over the disturbances.
Officers said there had been no major disturbances reported since Tuesday night, when five police stations were attacked.
High visibility patrols continued into the weekend in Nottingham and other parts of the county.
Assistant Chief Constable Ian Ackerley said: "We have already made clear our determination to ensure the safety of the public and business community in Nottingham, and that remains paramount.
"We are equally as determined to identify and arrest those responsible for the disorder last week.
"We know from the hugely positive response that we had from the public how strongly people felt about the appalling scenes that they saw on their television screens, let alone those who were the innocent victims of the mindless vandalism that blighted some of our local communities."
A gang of about 30 people damaged cars in the St Ann's area on Monday.
Stations in The Meadows, Bulwell and St Ann's were targeted, while Canning Circus station was set alight after fire bombs were thrown at the building on Tuesday night.
Mobs of up to 50 people also damaged cars, pubs and shops in areas including Basford, Mapperley and Radford.