Last Brough Superior SS100 motorcycle to be auctioned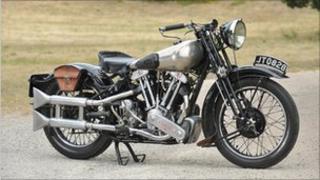 The last Brough Superior SS100 motorcycle to come off the production line in Nottingham is to be sold at auction in California.
The motorcycle, which was built at a factory in Haydn Road, has a pre-sale price estimate of $350,000 to $400,000 (£213,000 to £244,000).
George Brough, who made the bikes from 1924 to 1940, designed them to meet each customer's requirements.
There are thought to be only 71 Brough Superior SS100 models left worldwide.
Lawrence of Arabia
Each bike was certified to reach 100mph (160km/h), a speed which very few road vehicles could manage at the time.
Dave Roach, from the National Motorcycle Museum, said: "It's a very important motorbike, it was classed as the Rolls Royce of British motorcycles in its heyday.
"In 1924 it was the world speed record holder at 124mph. It was untouchable."
TE Lawrence [Lawrence of Arabia], the British army officer famous for his role in the Arab Revolt during the World War I, owned seven of the bikes.
He was killed riding a Brough Superior SS100 in Dorset in 1935.
Bonhams will sell the SS100 at its auction of Exceptional Motorcars and Motorcycles at Carmel in California on Thursday.