Warning over Nottinghamshire police cuts impact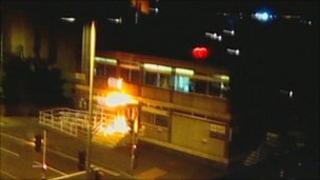 Policing in Nottinghamshire will be stretched by spending plans, the police authority's chairman has warned.
Jon Collins said he believed policing levels would be maintained during cuts over the next two years - but he could not make guarantees beyond that.
Last week, about 800 police officers, PCSOs and Special Constables were deployed after widespread disorder.
The force has said it must save £40m in four years but the government said this was "achievable".
Nottinghamshire Police Authority's chairman Jon Collins, who is also the leader of the Labour-run Nottingham City Council, said: "We have made savings for the first year of four consecutive years of planned cuts.
"While I am confident in the current financial year the operational integrity of the police has not been compromised - and similarly I believe we will be in that position the year after too - I think funding savings beyond that is going to be extremely challenging.
"Which is why we are arguing the point with the government that the scale of savings being asked of the police is too much."
But in a speech to senior officers in London, Home Secretary Theresa May rejected calls to reconsider the 20% cuts to police budgets.
"I am clear that, even at the end of this spending period, forces will still have the resources to deploy officers in the same numbers we have seen in the last week," she said.
"It's clear to me that we can improve the visibility and availability of the police to the public."