Mansfield Woodhouse motorbike crash death woman named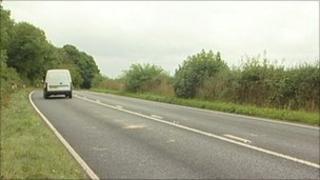 A woman who died after a collision between two cars and a motorcycle in Nottinghamshire has been named.
Margaret Joan Gomez, 48, was the passenger on the motorbike when it crashed in Peafield Lane, Mansfield Woodhouse, on Monday evening.
Mrs Gomez and her husband Carlos, of Burns Drive in Dronfield, Derbyshire, were taken to hospital but she later died from her injuries.
Mr Gomez, 51, is in a serious but stable condition.
No one else was injured in the incident.
The road was closed for several hours but reopened just before midnight.