Crews tackle hay and straw fires in Nottinghamshire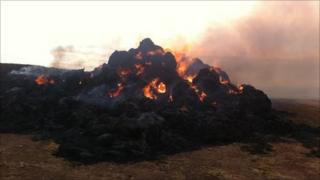 Firefighters were called to a series of straw and hay fires in Nottinghamshire.
Nottinghamshire Police are now investigating the five reported fires near Newark and Bingham between 23:45 BST and 04:40 BST.
Fire crews attended the fires on farmland at Sibthorpe, Elton, Thorpe and Granby.
A spokeswoman for Nottinghamshire Fire and Rescue said more than 1,600 tonnes of hay and straw were left to burn out in the fires.
Police are also investigating a separate suspicious fire at a mobile home park in Redhill, Nottingham.
A barn and a range of outbuildings were damaged in the fire at Killarney Park at about 19:40 BST on Wednesday.