Grey seal caught on camera in the River Trent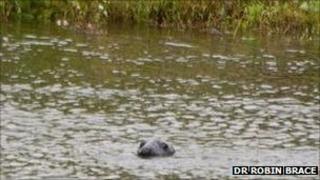 A photograph has emerged of a grey seal swimming in the River Trent in Nottinghamshire about 75 miles (120km) from the North Sea.
The seal was captured on camera by a wildlife enthusiast at the Besthorpe Nature Reserve, in Newark-on-Trent.
There have been two other sightings of the species this year in the area but no pictures of them.
Erin McDaid, of Nottinghamshire Wildlife Trust, said it was unusual to find photographs of seals in the river.
He added that it was not uncommon to find seals in the Trent as the river is tidal up to the village of Cromwell, near Newark.
Donna Nook
The wildlife expert said: "We might be landlocked in Nottinghamshire but the Trent connects us with our marine environment."
Mr McDaid said the seal could have come from a colony of grey seals at Donna Nook, in Lincolnshire.
He said: "They wouldn't have any problem catching fish in the Trent but they're a marine animal and they want to be back out to sea.
"I'm not sure how long they could live for in the river."
It is unlikely grey seals could get any further down the Trent, towards Nottingham, due to locks and weirs along the way.