Man to run Antarctic Ice Marathon in memory of mother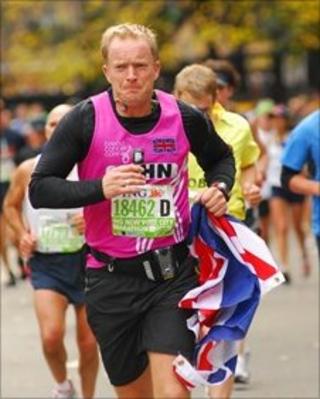 "If I'm wrapped up surely I should be ok?" said 40-year-old marathon runner John Killingworth. "Or am I being a bit naive?"
He is training for the Antarctic Ice Marathon, a gruelling race which takes place 200 miles from the South Pole.
He will be running on ice and snow, braving temperatures as low as -35C, at an altitude of 3,000 feet.
Only 19 British people have completed it.
The Nottingham-born runner is trying to raise £50,000 for Breast Cancer Care in memory of his mother, who died from the disease when he was just 11 years old.
"Cancer drives you mad. It's everywhere. It gives me more incentive to run the Antarctic Marathon," said Mr Killingworth.
Marathon bug
His passion for long distance running began with the Robin Hood Half Marathon in 2008.
He has taken part the Nottingham race each year since and is preparing for this year's event on 11 September.
He has also completed the London and New York Marathons and described them as the best days of his life.
"I got a bug for marathons and I couldn't stop," said the runner.
He completed a half marathon a week and wherever his job as a salesman took him, he would always find a new place to run.
He then heard about the Antarctic Ice Marathon.
"I didn't even know there was one. I couldn't stop thinking about it. Within a month it was too late, I'd agreed to do it," said Mr Killingworth.
Extreme race
He contacted Richard Donovan, who started the Ice Marathon in 2005, to get some training tips.
Mr Donovan told him to avoid refrigeration facilities and train on a beach to replicate the give of snow under foot.
But what about the dangers of running such an extreme race?
"You've got to look after your hands, feet and head. But there's also the heat. Runners have to be wrapped up but you can get too warm," said Mr Killingworth.
He has raised £8,000 so far and expects the donations to increase over the course of the next year.
He will fly out to the Ellsworth Mountains in Antarctica in November 2012.
"It will be a hell of an experience," said Mr Killingworth. "It excites me, massively."