Research into Nottinghamshire fatal dog illness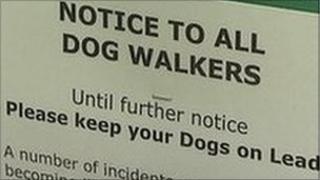 New research is to be carried out to try to get to the bottom of a mystery fatal illness that has affected dogs walked in woodland.
There have been 10 reported dog deaths from the mystery illness in Nottinghamshire over the past two years.
Other cases have been reported in Lincolnshire, Warwickshire and Norfolk.
The University of Nottingham's veterinary school will now try to establish a test for the toxin.
Students at the university will also look at ways to store samples of stomach contents from dogs in any new cases so they can carry out research more effectively.
'Natural substance'
Jo Atkinson from the Forestry Commission said it was still not known what had caused the illness.
"We know it's a natural substance and obviously something that's occurring in the autumn.
"It might take two or three years before we can get a really clear answer.
"We'd encourage dog owners to be very alert as to where their pets are and anything they might be eating or drinking and if they think their dogs are becoming ill to get them to the vets straightaway," she said.
Previous tests ruled out a man-made poison.
The illness, which causes vomiting, diarrhoea and lethargy, struck in autumn 2009, killing eight dogs who had been walked in Sherwood Forest.
There were two deaths reported in autumn 2010 affecting dogs walked in Sherwood Forest or Clumber Park.
The Forestry Commission is also working with the Animal Health Trust to identify the cause of the illness.
Anyone whose dog displays similar symptoms have been asked to fill in a questionnaire on the commission's website.