Nottinghamshire Police staff to strike over cuts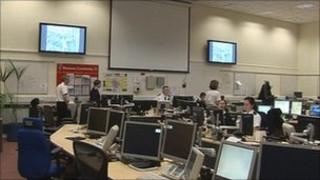 Civilian staff working at Nottinghamshire Police are to take part in two days of strike action in protest at cost-cutting measures.
Unison said its members had voted to walk out on 30 August and 2 September because some staff were being made "needlessly redundant".
Those due to take part include PCSOs, custody and detention officers, and 999 control staff, according to the union.
The force, which wants to cut £46m by 2015, said the move was disappointing.
It has already completed the first stage of its restructuring plans with about 170 civilian staff jobs lost - though it said more than 150 had taken voluntary redundancy.
Unison has alleged hundreds of further job cuts are being considered, and that some staff are being made unnecessarily redundant due to a "flawed process".
'Wasting resources'
It said it had taken the decision to strike "with a heavy heart". Members are also being asked to work to rule from 31 August until further notice.
Roger Young from Unison said: "It's not about the redundancies in themselves, it's about the way they're doing it.
"We feel that they're wasting resources and potentially identifying people to be made redundant who otherwise would not be so and they may have claims against the force," he said.
The force has accused the union of scaremongering and said no decisions on future job cuts had been made.
It said the union had agreed to the restructuring policy in October, and amending the process now would be unfair to some staff.
Assistant Chief Constable Ian Ackerley said: "We are extremely disappointed it has come to this as we believe industrial action will not benefit police staff, the organisation or ultimately the public of Nottinghamshire."
He said the force would take steps to mitigate the impact of the action, and that it would continue to "respond swiftly" to 999 calls.
Nottinghamshire Police, which has about 1,750 civilian staff employees, is making the cuts because of reductions in government funding over the next four years.