Crews tackle large wood yard fire in Nottinghamshire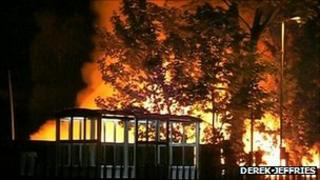 Firefighters have tackled a large fire at a wood yard in Nottinghamshire.
Four crews were called to the fire near Netherfield railway station on Victoria Road at about 21:00 BST on Tuesday.
Train services were disrupted by the fire but are now back to normal. Firefighters were damping down at the scene on Wednesday morning.
In a separate incident, crews also put out a large fire in woodland at Annesley Woodhouse which broke out at about 17:00 BST on Tuesday.
A spokesperson for Nottinghamshire Fire and Rescue said it was not yet known how either of the fires started.