Nottingham City Council sets up campaign sharing website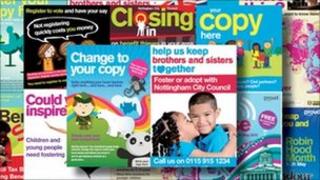 Millions of pounds could be saved if successful marketing campaigns were shared by local authorities, said Nottingham City Council.
It said money was wasted every year on designing new leaflets and posters concerning issues like dog fouling.
The council has created a website where campaigns can be shared by local authorities across the country.
Deputy leader of the council, Graham Chapman, said it will make revenue by pooling resources at a time of cuts.
The website is called Portfolio and is described as a marketplace for public sector creativity.
Local authorities can make money by selling their campaigns to each other.
Nottingham City Council said it was 60% cheaper than having one designed from scratch.
It will take a 15% commission when an authority uses any of the campaigns on the website, even if they were not generated in Nottingham.
Mr Chapman said: "We're hosting it, it's our idea and we're making money on it.
"We've got over a hundred authorities contributing and we just want to get them buying.
"It's something so obvious, it should have been done years ago."
Mr Chapman added that the city council will not scrap their own art department as some campaigns were too specific to Nottingham.