Stolen truck badly damages three cars in Hucknall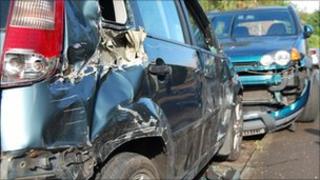 The occupant of a stolen lorry badly damaged three cars on a housing estate in Nottinghamshire, police said.
The truck was driven down Polperro Way, in Hucknall, before it was abandoned in a pub car park at about 21:50 BST on Wednesday.
The lorry was believed to have been stolen from a depot in Sutton-in-Ashfield.
Eyewitness Stuart Kenward said: "It's a miracle people weren't seriously hurt."
Fifteen pallets of copper worth £20,000 were taken from the crashed lorry which belonged to Haulage firm Mitchell's of Mansfield.
The occupant of the lorry abandoned the vehicle in the car park of The Harrier pub, in Christchurch Road, and fled in another large vehicle which was travelling behind, police said.
'Quite shocking'
A Honda, Vauxhall Vectra and Ford Fiesta Zetec were all badly damaged in the incident.
Two of the cars belonged to Leona Smith, who was going to bed when the damage happened.
"It's quite shocking. When we saw the debris I cried my eyes out," she said.
Mr Kenward, who witnessed the scene, said: "It was crazy, like watching something out of a film but outside your bedroom window.
"Nobody's seen anything like it before."
Police have asked for any other witnesses to the incident or anyone who might be able to help with their inquiries to contact them.