Notts County uncertain over Juventus tickets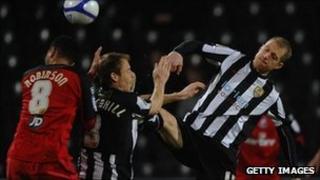 Bosses at Notts County said they were still trying to establish how many tickets would be available to fans for the 8 September match against Juventus.
The League One club are playing in Turin at the opening of the Italian side's new stadium, to celebrate a long association between the teams.
A hundred premium tickets will initially be sold to Notts supporters.
But the club said it was still unclear how many more would be allocated when the tickets go on general sale.
Club spokesman Jamie Dixon said: "It's a hundred premium tickets that we've been given.
"They are 100 Euros face value so they're top tickets that we've been allocated, but the assurances we're being given by Juventus are that Notts fans will be able to purchase tickets when they go on sale on 31 August."
'Constant negotiation'
Mr Dixon said the premium tickets would probably be sold to priority fans, such as season ticket holders, but that the club hoped to be able to advise other supporters about availability soon.
He said Notts County had been in "constant negotiation" with Juventus since the fixture was announced two weeks ago.
"It wasn't helped by public holidays in Italy last week, he said. "Then we've got the bank holiday on Monday - everything seems to be thrown in our way on this."
But he stressed: "I think the thing to remember is that we've been invited over to Juventus to join in what is going to be a massive evening for the club.
"Now we've got to work out the best way for getting the fans over there."
The two teams have been linked since 1903 when the Italian side were inspired by the Magpies to change their shirts from pink to black and white.
A return match between the sides at Meadow Lane is planned before the start of the 2012/13 season.