Former Nottinghamshire PC guilty of assaulting suspect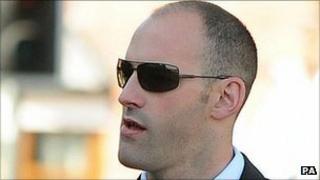 A former Nottinghamshire police officer has been found guilty of assaulting a suspected car thief.
Timothy Allatt, 33, denied kicking Jake Bramley during the arrest in the early hours of 25 July last year.
Mansfield Magistrates' Court heard Mr Bramley was also thrown against a wall before being handcuffed in Nottingham.
Allatt was dismissed from the force in April after a disciplinary tribunal ruled against him for using unreasonable force in a different case.
District Judge Diane Baker told Allatt that in normal circumstances she would hand out a community order for an assault conviction but this case had aggravating factors.
"Those aggravating factors are that this was a sustained assault," she said.
"It was a sustained assault on a member of the public by a serving police officer. At this stage I cannot rule out a custodial sentence."
'Kicked in chest'
He will be sentenced on 28 September at Mansfield Magistrates' Court.
The court was told the former police officer hit Mr Bramley, threw him against a wall and then dragged him face down to the floor before kicking him in the chest.
Giving evidence, Allatt admitted landing a blow but said he had used a recognised arrest technique.
He also told the court other officers arrived to assist him and "piled on", meaning they used their body weight to pin Mr Bramley down before his hands could be cuffed.
When he booked Mr Bramley in at the force's custody suite, Allatt did not tell the custody sergeant he had struck him, nor did he record it on the standard police "use of force" form, the court heard.
Mr Bramley later went to Queen's Medical Centre where he received treatment for a collapsed lung and facial injuries.
'Bad character'
Another Nottinghamshire Police officer, PC Daniel Moss, told the trial he had witnessed Allatt punching, grabbing, and kicking Mr Bramley in the rib cage.
His account was to be believed over Allatt's, the judge said, and she dismissed a claim that PC Moss may have made up the allegation because he was derided by fellow officers after grabbing Mr Bramley but failing to keep hold of him.
Ms Baker also said it was not claimed that Allatt caused all of the injuries, but that she could not ignore the seriousness of his conviction and her duty to protect the public.
During the trial, the court heard that Allatt was dismissed in April this year after a police tribunal made a finding against him for unreasonable force.
It was in relation to a separate matter and a different man who, the court heard, Allatt pushed against a wall after he got out of his police vehicle at speed in an aggressive manner.
Allatt has since appealed against the decision, but Ms Baker said it showed "bad character in the form of previous reprehensible behaviour".
She told Allatt that when considering sentence she would take into account that he was a highly-trained authorised firearms officer, that he had received four commendations in his 11 years as a policeman and that he was widely respected.