Hedgehog trapped in log returned to wild in Nottingham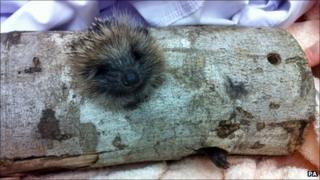 Vets have rescued a wild hedgehog after it got stuck in a log in Nottingham.
A member of the public took the animal to a surgery in Dunkirk on Monday, where it took staff 45 minutes to cut him free.
Vets used a chisel and a bone saw to free the hedgehog, while a table spoon was used to protect its head.
It made a full recovery and was released back to the area where it was found after being kept overnight at a Vets Now clinic.
'Quite misshapen'
Dr Ava Firth, who was the senior vet on duty when the hedgehog was taken in on Monday, said: "I've never seen anything like this, I don't think many have.
"He looked quite misshapen when we got him out.
"We made him a nest, gave him some cat food and water and the next morning he looked like a normal little hedgehog again."
The British Hedgehog Preservation Society says the hedgehog population has been reduced by a quarter in the past decade.
The animals have suffered from a loss of natural habitat, pesticides, and a healthier badger population, it said.