Andy Turner's mum proud of World Championship medallist son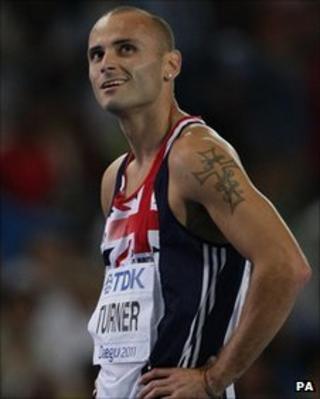 The mother of Nottinghamshire hurdler Andy Turner has said his bronze medal at the World Athletics Championships in South Korea is a fantastic high.
Turner, 30, from Hucknall, the European and Commonwealth champion, made the podium in the 110m hurdles in Daegu.
He finished fourth in the race but was promoted to third after the winner Dayron Robles was disqualified.
Yvonne Turner said she had not managed to sleep due to excitement since her son won the medal on Monday.
She said: "We're just all over the place. The family is thinking about what's going to happen going on to London 2012."
The athlete won his first major titles in 2010, clinching European and Commonwealth gold medals.
Mrs Turner said: "Andy will say 'I came fourth', he wants to get on that podium by his own merit not by someone else's bad luck.
"But even fourth was tremendous, really marvellous."
Olympic Games
Mrs Turner and her husband have supported their son, with both time and money, since he joined Notts Athletic Club at the age of nine.
However, despite Turner's wins in 2010 and his performance in South Korea, his place in the GB team at London 2012 is not guaranteed - he would have to show good form in the first half of 2012 to be selected.
Mrs Turner said: "He's just got to get on with it and see what he can do to improve his technique and speed until the Olympic Games in London.
"Andy's not worrying about the guys he's racing now. He's been training with the Americans and they're a very strong team.
"He's just going to try his best."