QMC resuscitation decision angers grieving family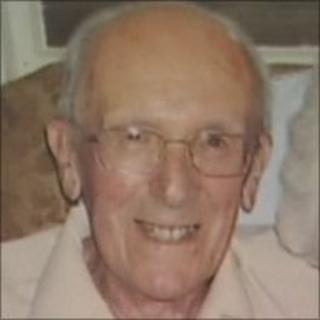 The family of a man who died in hospital in Nottingham say they are angry staff failed to consult with them over a decision not to resuscitate him.
Bill Bilbie, 90, from Long Eaton, died last week at Queen's Medical Centre.
His daughter Margaret Hornall said she was "distraught" doctors did not consult her before putting a 'Do Not Attempt Resuscitation' order on notes.
The hospital said it had been the right clinical decision but apologised for its lack of communication.
'Life or death'
Ms Hornall said: "I was asking direct questions such as 'didn't you try to resuscitate him?' and we went on like this for about 10 minutes until finally the doctor admitted they didn't try to resuscitate him due to orders.
"I felt absolutely physically sick at the fact it hadn't been discussed.
"No-one had even mentioned the possibility of a DNAR order being put on.
"They said they didn't know I was the next-of-kin. They hadn't looked at the paperwork.
"I can't believe anyone would make a life or death decision without checking the facts and the paperwork first."
British Medical Association guidelines state DNAR orders should only be put in place after discussions with the patient or the patient's family.
Mr Bilbie's family have now made a formal complaint to the Queen's Medical Centre and the hospital has started its own investigation.
'Breakdown in communication'
Dr Stephen Fowlie, medical director at Nottingham University Hospitals, said: "There is strong evidence that the Do Not Attempt Resuscitation order was clinically appropriate for Mr Bilbie when he was admitted as an emergency.
"Trust protocol and national guidance was followed by senior doctors in reaching this decision.
"We apologise to Ms Hornall and her family that a breakdown in communication between our hospital teams meant that she was not informed as quickly as she should have been.
"We met Ms Hornall last week and will keep her informed throughout our investigation."