World's oldest boxer Steve Ward gets civic reception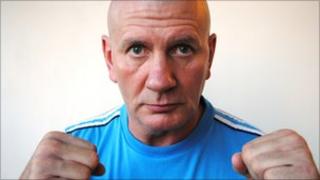 The world's oldest champion boxer has been given a civic reception by the mayor of Nottingham in recognition of his sporting achievements.
Last year Nottingham-born Steve Ward, 55, set the Guinness World Record which was previously held by a 53-year-old Australian.
Mr Ward said: "It's terrific. To think that Nottingham has done this for me, I can't put it into words."
A scroll of honour was presented to Mr Ward at the Council House on Thursday.
Mr Ward returned to the ring after a 23-year absence and beat Derby fighter Greg Scott-Briggs to win the European Boxing Federation Midlands Cruiserweight belt.
Mr Ward, who grew up in Hyson Green and now lives in Mansfield, turned professional in 1977 and retired in 1987.
He said: "I was just letting [my opponents] get ahead of me, a 23-year head-start."
Broken foot
The real impetus for Mr Ward to get back into boxing was after he suffered a serious foot injury five years ago.
A concrete slab fell on his right foot breaking several bones and leaving him with chronic regional pain syndrome, where all the nerve endings, tissue and bones were fused together.
He was told he would always walk with a limp and would never be able to run.
However, after an operation in Hong Kong he made a full recovery.
He said: "Three months later I was feeling great. I got back in training and decided to make a comeback."
Mr Ward had four fights and won them all.
He took the place of 53-year-old Australian fighter Dexter Dunworth in the Guinness Book of Records.
Mr Ward's wife Louisa and some of his helpers and supporters joined him at the Council House.
He said: "My family think I'm a nutter. People all round me weren't behind me at first, but, now, I think they believe in me."
Mr Ward will defend his European Boxing Federation Cruiserweight title against Lee Renshaw on 1 October in Chesterfield.