Nottinghamshire Police civilian staff hold second strike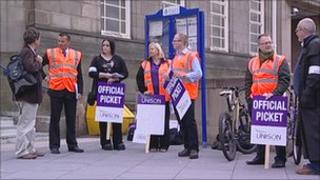 Civilian staff at Nottinghamshire Police are staging a second 24-hour strike in protest at cost-cutting measures.
Among those taking part are PCSOs, custody and detention officers, front counter and 999 control centre staff, according to Unison.
The union has criticised restructuring plans, claiming employees are being made needlessly redundant.
The force said steps would be taken to reduce the impact of the action.
Nottinghamshire Police, which has about 1,750 civilian staff employees, intends to cut £46m by 2015.
The first stage of the force's restructuring has already been completed with up to 170 civilian staff jobs lost, although more than 150 are said to have been achieved through voluntary redundancy.
Officers 'drafted in'
Unison said the decision to strike was taken "with a heavy heart", but claimed the second phase would see "up to a further 746 police staff jobs at risk of redundancy".
Assistant Chief Constable Ian Ackerley has called the action "extremely disappointing".
He said the force would continue to respond swiftly to 999 calls.
The force has accused the union of scaremongering and said no decisions on future job cuts had been made
During the first one-day strike on Tuesday, police officers were drafted in to cover for control room workers as at least 119 members of staff joined the walkout, according to the force - though Unison said the figure was much higher.