T-shirt clue in Eastwood Tesco shooting inquiry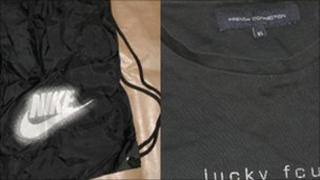 Police investigating the shooting of a security guard have released details of a T-shirt and sports bags which may have been used by the offenders.
The guard was shot in the leg during an armed robbery attempt outside the Tesco Express store in Nottingham Road, Eastwood, Nottinghamshire, on 22 July.
The items were recovered from a stolen car believed to have been used by the offenders.
The guard was filling a cash machine at the store when the attack happened.
The items include a black French Connection T-shirt with the slogan 'lucky fcuk' printed on the front, and two drawstring sports bags.
They were recovered from a stolen black Audi Quattro S3, which was found at Kingsway Gardens in Hucknall shortly after the incident.
Police said one of the sports bags is black and grey, and has the Nike name and logo printed on it in white. The other is black and has no logo, but has a 'B Magazine' label stitched along one side.
Security firm G4S and Tesco have offered a reward of up to £10,000 for the arrest and conviction of those involved.
Police are looking for three black men in connection with the incident.