Meeting organised over Kimberley Police Station closure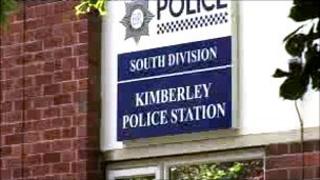 A town council has organised a public meeting to discuss the proposed closure of a Nottinghamshire police station.
Councillors said shutting Kimberley Police Station would affect front line policing.
Nottinghamshire Police Authority said it understood the concern but savings had to be made as a result of government spending cuts.
Kimberley is one of 12 stations in the county being considered for closure by the force.
Roy Plumb, from Kimberley Town Council, said: "The public don't want the station to close, they want the availability of officers within the community to remain.
"The station should remain as a community facility."
Nottinghamshire Police are looking at alternative locations to base their beat officer, including the use of a local supermarket.
Police authority members will be attending the meeting, which takes place on Monday evening at the Parish Hall in Newdigate Street, Kimberley.
The force, which has about 1,750 civilian staff employees, intends to cut £46m by 2015, and is in the process of restructuring several departments.