Paedophile Peter Holland spent life surrounded by children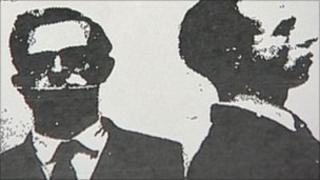 Thousands of photos of young boys and men, found neatly filed at Peter Holland's house, helped detectives build up a picture of decades of evil.
The images, labelled with names and stored in suitcases in Holland's loft, were seized by police following his arrest.
The 79-year-old paedophile, from Nottinghamshire, has been jailed for six years for sexually abusing 12 boys.
Police found Holland had been targeting children since the 1950s.
He was convicted of seriously sexually assaulting five young boys while working as a housemaster at a hostel for youngsters in Wiltshire in 1959.
After completing a four-and-a-half year prison sentence, he moved in with his mother in Beeston, Nottinghamshire.
Pantomimes and holidays
From then on, Holland surrounded himself with children by volunteering at local churches, cubs and scout groups.
Det Con Parveez Rashid, who led the investigation, said: "He played the part of the caring community-spirited person who would happily help out local families by taking their sons swimming, to pantomimes and on holidays and trips."
Holland's deception was hidden for decades until one of his victims - now 38 - broke a lifetime of silence and revealed to police he had been abused as a boy.
Detectives said when they arrested the pensioner at his three-bedroomed home in Bramcote Hills, there was no sign of surprise - for a long time he had been expecting the police to come looking for him.
After finding his store of 3,000 photographs, police used names written on the back to try to contact other potential victims.
Det Con Rashid cross-referenced the names on police databases and set up a dedicated Facebook account to try to reach people in the photos.
Expecting the knock
He said: "Anyone who looked like they could be the people in the photographs, I sent them a message with my mobile number on there asking them to get in touch.
"Some got back to me to say they had known Holland but had not been abused by him while others confirmed that they had in fact been victims.
"Their usual response was that they had been expecting a knock at the door for many years.
"Each of his victims kept their abuse a secret from everyone they know and love for their entire lives."
As police interviewed him, Holland made no attempt to hide his sickening crimes.
"He was polite and chatty and loved to talk for hours on end about the abuse he inflicted," said Det Con Rashid.
"His excuse was that he was born with a sexual desire for young boys - he said he had a disease and there was nothing he could do about it."
Police believe Holland had probably been abusing young boys throughout his adult life and probably only stopped offending in the late 1990s due to his age.
Det Con Rashid said: "I am certain there are potentially hundreds of other victims out there who were abused by Holland many years ago and have not confronted what happened to them.
"These men will probably now be adults and live all over the country and the world.
"There is still time to come forward and tell us what happened in the hope that it can offer them some peace and closure."