Nottinghamshire to stockpile 7,000 tonnes more grit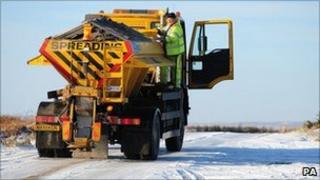 Nottinghamshire County Council has ordered almost 7,000 extra tonnes of gritting salt in anticipation of another harsh winter.
Last year, the authority had 14,600 tonnes stored, but had already used about three-quarters by mid-December.
Along with other councils, it had to order more grit from abroad as supplies nationally began to run out during the severe weather.
This year, it said about 21,500 tonnes should be in place by November.
The authority is currently finishing a new £8.6m highways depot in Bilsthorpe, which has allowed it to increase storage capacity.
In addition, it has urged parish councils to consider appointing "snow wardens" to act as a link between villages and district highways managers during any difficult conditions.
'High priority'
Local farmers are also being asked if they would be prepared to help keep roads clear, and a letter seeking expressions of interest has been sent to the National Farmers Union (NFU).
Richard Jackson, cabinet member for transport and highways, said: "Overall, we will be able to store 21,500 tonnes, which is 12,000 tonnes more than the absolute minimum recommended by the government and enough for all but the most severe winters.
"The county council gives high priority to winter maintenance and has increased its budget to £2.6 million this financial year, to help keep the county's roads clear of snow and ice.
"We are determined to keep our county on the move this winter."