Bestwood Park Rangers football club suffer third burglary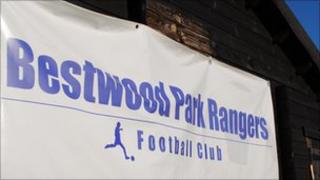 A Nottinghamshire youth football club pavilion has been burgled for the third time in three months.
Bestwood Park Rangers installed a 6ft metal fence and a double-padlocked steel door after the previous break-ins but were still targeted on Sunday.
Thieves stole £200 of tuck shop stock and the pavilion's water tank.
Coach Becky Williams said she felt devastated and was now desperate for help to boost the club's security.
Ms Williams said: "I'm devastated and getting a bit fed up with it all.
"We're only a small football club and we can't do much more without going over budget."
Police have since recommended that the club, used by about 150 children every week, fitted CCTV cameras and a burglar alarm.