Fake Jacob's Creek wine seized in Nottinghamshire off-licence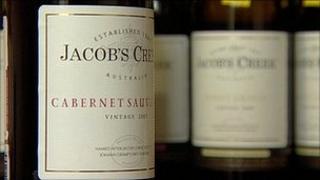 Forty bottles of counterfeit wine have been seized at a Nottinghamshire off-licence.
The wine, falsely labelled as Jacob's Creek, was found at an independent retailer as part of a countywide crackdown by Trading Standards.
Officers became suspicious about the wine after spotting a spelling error on the labels of the bottles.
Trading Standards said the wine was "of very low quality and of substandard taste".
Councillor Mick Murphy, cabinet member for public protection at Nottinghamshire County Council, said: "Counterfeit alcohol is a growing problem.
"The public are paying a premium for a product that is not the real thing whilst reputable businesses selling genuine goods are being cheated out of trade."
Gavin Partington, from the Wine and Spirits Trade Association, said: "There is a risk to people's health. In most cases the product has not been properly produced."
Shoppers have been warned to be extra vigilant when purchasing alcohol.
"If it looks too good to be true then it probably is," said Mr Partington.
Hundreds of fake bottles of Jacob's Creek have been seized by trading standards officers in England and Wales this year.
The wine is believed to be from China and is being sold to independent off-licences and shops for as little as £2.