Nottingham City Council plans to demolish 1,000 homes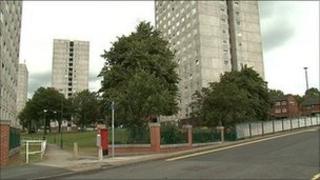 Nottingham City Council is planning to demolish almost 1,000 council homes to make way for new accommodation.
A consultation with residents in The Meadows, St Ann's, Lenton and Radford found the majority were in favour of the move.
The plans will go to the city council and then to the government in October.
The council estimates it will save £4.8m by pulling down the homes and replacing them with 500 newer ones.
'Tough decisions'
High rise flats in Lenton and Radford and 1960s houses in The Meadows would be some of the homes to go under the proposals, with tenants being rehoused and compensated.
Some residents in Lenton said the demolition was unnecessary as families would be uprooted and forced to move elsewhere.
Joy Gage, from The Meadows, said: "We have been years waiting for repairs... but we will wait to see what happens."
Councillor Alex Ball said: "We have to make tough decisions and make sure we have the right mix of the right houses in the right place.
"People overall are not happy in these houses - they are not warm enough and they are not the right size for them."
He said anyone in a council house who wanted to remain in a council home would be able to do so, adding the new homes would be in place by 2017.
The regeneration programme is set to begin in April 2012 and would be the biggest building programme in the city for almost 30 years.