Broadmarsh project 'to create 6,000 jobs in Nottingham'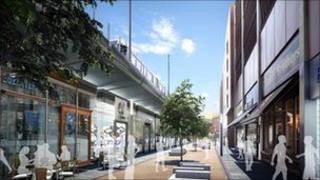 More than 6,000 jobs are expected to be created as part of a shopping centre redevelopment in Nottingham.
In March, Westfield submitted plans to Nottingham City Council for a £500m expansion of the Broadmarsh shopping precinct in the city centre.
The council said as part of the planning permission Westfield had to provide jobs for local people.
Deputy leader of the council Graham Chapman said it was not enforceable but he expected Westfield to co-operate.
'Not appropriate'
Mr Chapman said the city council had similar agreements with other developers in previous years.
He said: "It saves [Westfield] a job as we'd do a lot of the recruiting for them.
"But in the end, they do have the right to reject somebody if they feel they're not appropriate."
The city council has been planning the redevelopment of the Broadmarsh for almost two decades.
The expansion would almost triple the size of the existing 400,000 sq ft centre (37,161 sq m) to 1.1 million sq ft (102,000 sq m).
The project would start in 2012 if approved and be completed by 2015.