Plastic wedding rings used in Nottingham sham marriages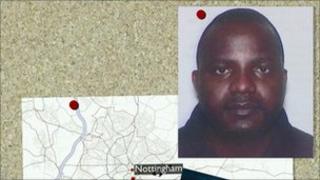 Couples involved in fake marriages in Nottingham did not speak the same language and wore plastic wedding rings.
On one occasion Phillips Onikoyi, who has been jailed for organising at least 16 sham marriages over two years, took pictures of two people in Nottingham's Old Market Square to make them look like a happy couple.
He also provided "one size fits all" clothing to wear during the weddings.
The scam allowed Nigerians to stay in the UK because they had married a European with residence rights.
Onikoyi found Nigerians fake marriage partners who were entitled to live in the UK.
Organised crime
They were all Dutch nationals and many originally came from the Dutch Antilles in the Caribbean.
Andy Ratcliffe, from the UK Border Agency, said: "They were flying over for 24 hours, basically overnight, and then going back to Holland.
"After the wedding they would never come back to the UK."
Onikoyi introduced the couples to the vicar and was usually present when the marriages took place.
The Nigerians then applied for leave to remain in the UK.
Twenty suspected marriages took place at St Aidens Church in Basford, Nottingham.
Sam Bullimore, from the UK Border Agency, said: "[The marriage register] absolutely takes off in 2009.
"There's a huge amount of marriages involving Nigerians marrying Dutch nationals."
Someone else would assume the identity of the Dutch national for the purpose of living and working in the UK.
More often than not they were the genuine partner of the Nigerian, which meant that two identities were falsely used.
'Mr Big'
Judge Robert Brown told Onikoyi at Leicester Crown Court he had "shown complete contempt for UK immigration law".
She added: "A message needs to go out that behaviour like this will not be tolerated.
"Your case has the aggravating feature that you systematically made trips to Holland to bring people back for sham marriages."
Onikoyi, formerly of Stanley Road, Hyson Green, Nottingham, is a Nigerian national who came to Britain in 2008 on a student visa.
He married a British national and was allowed indefinite leave to remain in the country.
Mr Bullimore said: "This is an organised crime group and Mr Big lives in Nottingham. We're very pleased to have convicted him."