Hopes for investment in Nottingham after business visit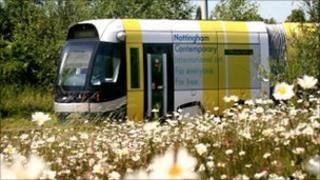 Potential investors have been taken around sites in Nottingham which have been earmarked for development.
Invest in Nottingham Day was arranged by the city council and 130 businesses, following an event held in London to attract new investment.
Visitors were taken to sites including a planned 100-acre enterprise zone at Boots' Beeston site.
The council said £1.6bn is already coming into the city through projects such as phase two of the tram network.
Major inquiries
Invest in Nottingham's chairman Paul Southby said since the London event the group had up to 12 major inquiries which could bring jobs and investment to the city.
He said: "It's our job and the job of our colleagues at the city council to build on those inquiries and turn them into reality.
"Our aim is to sell the considerable benefits of the city to those people."
Other major projects happening in Nottingham over the next five years includes improvement plans at the train station and the redevelopment of the two shopping centres, Broadmarsh and Victoria.