Nottinghamshire police chief to step down in 2012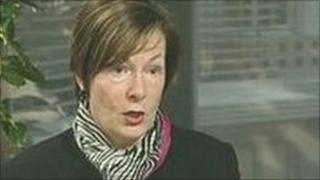 Nottinghamshire Police's top officer will step down next year, the police authority said.
Chief Constable Julia Hodson, who was warned by inspectors in 2010 that the force was "failing", will retire in September 2012.
Ms Hodson, 54, who also served as deputy chief constable of West Yorkshire Police, has worked for 30 years as a police officer.
Officers across the force are being forced to retire after 30 years.
Ms Hodson told a House of Commons committee in September that the unrest in July when three Nottingham police stations were firebombed was not a "riot" but a "disturbance".
Ms Hodson, who joined the Nottinghamshire force in 2008, was warned by inspectors in 2010 that the force needed improvements.
'Time of great change'
The force received the lowest grades in three areas in a report published by the Police Inspectorate in March 2010, prompting Ms Hodson to replace her top management team.
Nottinghamshire Police Authority chairman Jon Collins said: "We are grateful that the chief constable has given us plenty of notice of her decision. This will enable us to put appropriate plans in place for a smooth changeover.
"Nationally, this is a time of great change and challenge for policing, but our local residents should be reassured that crime in Nottinghamshire is currently at a 30-year low and is continuing to fall faster than anywhere else in the country."
A new chief constable is expected to be appointed by December.
The deputy chief constable, Chris Eyre, who was acting chief of Leicestershire Police, is considered a likely front runner for the post, BBC correspondent Jeremy Ball said.