Boy, 13, hurt in classroom fight at Hucknall National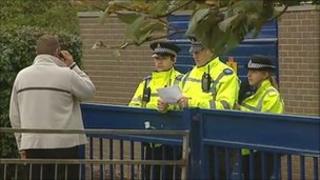 A 13-year-old boy is being questioned by police after a fight in a classroom at a Nottinghamshire school.
Another 13-year-old boy was seriously injured during the altercation in a year nine class at the National Church of England Academy in Hucknall.
The boy suffered a head injury and was taken to King's Mill Hospital near Mansfield but was later transferred to Leicester's Glenfield Hospital.
No-one else was involved in the incident, a police spokesman said.
Officers will be speaking to other pupils who were in the class at the time of the attack.
The injured boy remains in a serious but stable condition.
School principal John Edwards said: "We can confirm that there was a serious incident involving two pupils at the National Church of England Academy, Hucknall this morning.
"Staff from the school are assisting Nottinghamshire Police who were informed immediately.
"All our thoughts and best wishes are with the boy who was injured and we are praying that he makes a speedy and full recovery."
The school remained open and lessons were held as normal, he said.
Nottinghamshire's National Union of Teachers spokesman Liam Conway said: "The main thing at a time like this is to have sympathy for the family who have a child who has been quite badly injured."