Nottinghamshire dog dies of mystery fatal illness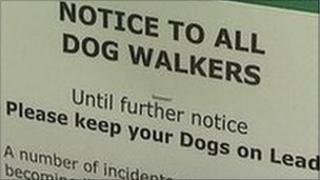 The owner of a dog which died of a mystery illness after walking in Nottinghamshire woodland says people need to be aware of the symptoms.
Debra Pearson's boxer began vomiting after a walk in woods in Clipstone and was dead two days later.
It is believed to be the first to die of seasonal canine illness (SCI) in England this year.
Twenty-six other cases have been reported to the Animal Health Trust but all the other animals recovered.
The main signs of SCI are sickness, diarrhoea and lethargy.
Mrs Pearson's dog started vomiting on Sunday evening but she did not take it to the vet until Tuesday morning.
"We thought she had a tummy upset," she said.
"If you're walking your dogs in the woods you've got to be aware of this illness in case your dog does get these symptoms.
"If we'd have known maybe we could have treated her as soon as she started to be sick."
There have been 11 reported dog deaths from SCI in Nottinghamshire over the past two years.
Other cases have been reported in Lincolnshire, Warwickshire and East Anglia.
The Forestry Commission said it believed the dogs were being killed by a natural substance occurring in the autumn that affected dogs walking in woodland or heathland.
Previous tests ruled out a man-made poison.
Val Coulton from the commission said: "All we can say to people is just be vigilant of any signs of illness in your dog and anything that looks unusual get straight down the vets."
The Forestry Commission is working with the Animal Health Trust to identify the cause of the illness.
Anyone whose dog displays similar symptoms has been asked to fill in a questionnaire on the Animal Health Trust's website.
The University of Nottingham's veterinary school is also carrying out research.