Urgent repairs at Newark Castle to cost £175,000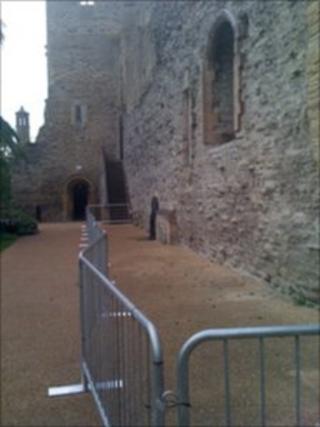 Urgent repairs costing about £175,000 are to be carried out at Newark Castle in Nottinghamshire.
Parts of the structure have been fenced off to protect the public from the risk of falling masonry after an inspection.
Newark and Sherwood District Council, which is responsible for the castle, will pay £130,000, while the rest will come from a heritage grant.
Less urgent repairs are expected to be carried out within five years, bringing the total cost to at least £500,000.
Councillor Nora Armstrong said the problem of falling debris was down to weathering.
"We've had some severe winters and if the weather gets into the fabric of the building it happens," she said.
Ms Armstrong said the castle had not been neglected with £1m being spent between 1979 and 1995.
"It's a wonderful asset for Newark and well worth spending money on," she said.
Newark Castle - founded in the 12th Century - was partly destroyed during the English Civil War, though many parts of the original Norman structure have survived.