Former PC Timothy Allatt jailed for assaulting suspect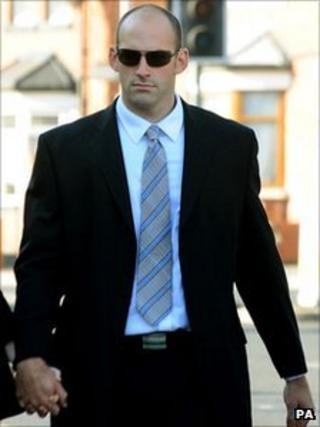 A former Nottinghamshire police officer who assaulted a suspect while arresting him has been jailed for eight weeks.
Mansfield magistrates heard that PC Timothy Allatt hit Jake Bramley, threw him into a wall and kicked him.
The 33-year-old, who was convicted after a two-day trial, was among several officers chasing Mr Bramley who was suspected of stealing a car.
Allatt was sacked in April after a tribunal ruled he used unreasonable force in an unrelated case.
The prosecution said Allatt caught up with Mr Bramley in the Sneinton area of the city on 25 July last year.
PC Daniel Moss, who was on duty at the time, said that after being chased, Mr Bramley - then aged 22 - was cornered by police and then assaulted by Allatt.
The court was told that he punched the suspect, threw him against a wall and then dragged him face-down on to the floor before kicking him in the chest.
'Palm heel strike'
Giving evidence, Allatt, an authorised firearms officer, said he carried out a "palm heel strike" on Mr Bramley as a distraction blow, then pushed and pulled him with both arms to bring him to the ground and make a lawful arrest.
He denied kicking or dragging him, or throwing him into the wall.
District Judge Diane Baker told Allatt she had taken into account his 11 years of service with the force, in which he received several commendations as well as numerous complimentary references submitted during court proceedings, but could not ignore the "gratuitous violence" he used on Mr Bramley.
"Mr Allatt, the public do not deserve police officers like you," she said.
"You were a public servant. The public have the right to expect that when a person is detained, it is effected with a minimum of force.
"A police officer holds a privileged position. If he or she goes on to break the law, it makes the offending much more serious."
District Judge Baker told Allatt he would serve half the eight-week sentence in prison.
She also commended PC Moss for reporting the assault.
After his arrest, Mr Bramley was taken to the Queen's Medical Centre where he received treatment for a collapsed lung and facial injuries.
Det Ch Insp Mick Windmill-Jones, of Nottinghamshire Police's Professional Standards Directorate, said: "Officers are fully trained to use appropriate restraint when carrying out an arrest, and in this case Allatt acted outside the code of conduct by using excessive force.
"His actions caused injury to another person and failed to meet the highest standards of behaviour, integrity and professionalism that we expect from our officers and staff.
"The sentence today reflects Allatt's total lack of regard for his responsibility to protect the public and was an abuse of his position."
During the trial, the court heard that Allatt was dismissed from the force in April after a disciplinary tribunal made a finding against him for using unreasonable force in a separate and unrelated matter.
Speaking after the hearing, Allatt's solicitor Damian Kelly said an immediate notice of appeal against the conviction and sentence had been lodged with the court.