'Fido and Poover' used to clear dog mess in Nottingham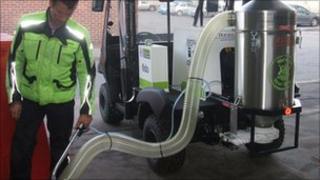 Two new machines have been unveiled which Nottingham City Council hopes will help it win its war against dog mess.
Fido - short for Faeces Intake Disposal Operation - is an all-terrain cart capable of collecting 240 litres of dog dirt and converting it to slurry.
A smaller bike-style machine, the Poover, can be used in tighter spaces.
The machines are being used in response to complaints about dog fouling in Aspley, Bilborough and Leen Valley.
Alex Norris, from the council's environmental department, said the contraptions would have a big impact on tackling the problem.
Powerful vacuum
He said: "Fido can go on parks, grassy areas and up on kerbs. The Poover is based on more of a motorbike that can go on streets.
"Between the two of them we can get most things."
Fido's powerful vacuum sucks dog dirt into a stainless steel container where it is mixed with disinfectant and water and turned into slurry for disposal.
The Poover, a specially-adapted Honda 125cc, has a suction tube to remove dog dirt and a spray hose to disinfect the area.
Nottingham City Council said it had dealt with over 750 reported cases of dog fouling over the past year.
Mr Norris said people would still face fixed penalty notices if caught not clearing up after their dog and said faeces could now be placed in any bin in the city.