Assault PC Timothy Allatt bailed pending appeal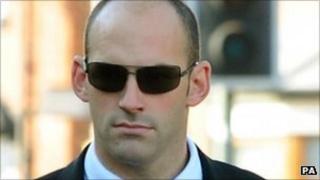 A former Nottinghamshire police officer jailed for assaulting a suspected car thief has been freed on bail pending an appeal hearing.
Mansfield magistrates heard that PC Timothy Allatt hit Jake Bramley, threw him into a wall and kicked him, while arresting the 22-year-old in July 2010.
He was sentenced to eight weeks in prison on Wednesday.
Allatt appealed against the conviction and sentence and was released from custody earlier, the CPS confirmed.
He is next due in court on 6 October for a case management hearing, when the appeal date is expected to be set.
Allatt, 33, was among several officers chasing Mr Bramley when he caught up with him in the Sneinton area of Nottingham on 25 July last year.
Facial injuries
Giving evidence, Allatt said he carried out a "palm heel strike" on Mr Bramley as a distraction blow, then pushed and pulled him with both arms to bring him to the ground and make a lawful arrest.
He denied kicking or dragging him, or throwing him into the wall.
The authorised firearms officer was convicted after a two-day trial at the end of August.
Handing Allatt a custodial sentence, district judge Diane Baker said she could not ignore the "gratuitous violence" he had used.
After being arrested, Mr Bramley was taken to the Queen's Medical Centre where he received treatment for a collapsed lung and facial injuries.
The police officer was sacked in April after a tribunal ruled he used unreasonable force in an unrelated case.