Police investigate Mansfield Woodhouse bungalow crash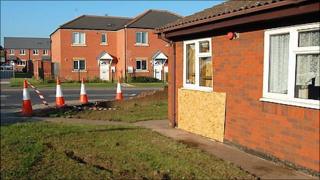 Nottinghamshire police are to investigate a collision between two police cars, which sent one crashing into a bungalow.
Two officers suffered minor injuries in the crash in Cross Street, at the junction with Sherwood Street, in Mansfield Woodhouse.
No-one inside the bungalow was injured in the crash, which happened at about 20:15 BST on Thursday.
The force said the investigation was "a matter of routine".
The incident has also been referred to the Independent Police Complaints Commission.
A structural engineer has assessed the bungalow and confirmed it is safe.
Nottinghamshire Police said initial repairs had been carried out on the property and the force was offering support to its resident.
The officers were taken to King's Mill Hospital but have now been discharged.