Man charged over fatal crash following police pursuit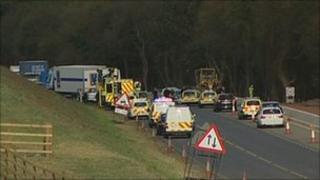 A Leicester man has been charged with causing death by dangerous driving after a fatal road crash which happened as a car was being followed by police.
The 26-year-old is also charged with driving without insurance and is due at Nottingham Magistrates Court on Monday.
The man killed in Friday's crash on the A46 in Flintham, Nottinghamshire, was driving a car which was in a collision with the car being followed by police.
The Independent Police Complaints Commission is investigating the crash.
Nottinghamshire Police said two other men who were also held were bailed but were then arrested by Leicestershire Police in connection with other offences.
The man who died in the crash, which happened at about 13:50 BST on Friday, has not been named.