Man charged over fatal crash following police pursuit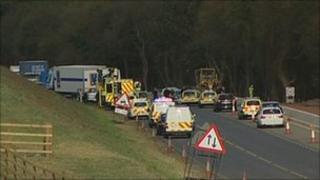 A Leicester man who was charged over a fatal road crash which happened as a car was being followed by police, has been remanded in custody.
Martin Casey, 26, appeared before magistrates in Nottingham charged with causing death by dangerous driving.
A man was killed on Friday when he was in collision with a car on the A46 in Flintham, Nottinghamshire, which was being followed by police.
Mr Casey is due to appear at Nottingham Crown Court on 24 October.
The defendant, of Golf Course Lane, is also charged with driving without insurance.
The Independent Police Complaints Commission is investigating the crash.