Nottinghamshire police station closure plans approved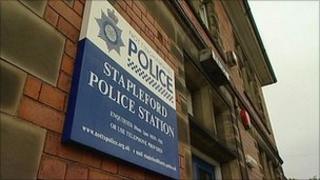 Nottinghamshire Police Authority has approved plans to close 12 police stations across the county.
Counter services at 23 police stations will also be shut down, with 19 kept open.
Nottinghamshire Police said the stations to close were hardly used by the public.
The closures will save about £720,000 a year in rent, will raise about £880,000 from building sales and will take place by April 2012, the force added.
The plans were approved by the authority on Wednesday following a public consultation.
Assistant Chief Constable Paul Scarrott said: "These are very quiet, underutilised premises.
"We will be able to realise cash that we can pump back into the front line - to maintain constables, maintain community support officers and deliver a service that is vital."
Staff will relocate back to the nearest available station or into alternative premises nearby such as commercial premises or council buildings.
Earlier this year the police authority supported plans to close three other police stations and sell, or terminate lease agreements on, seven police contact points across the county.
Nottinghamshire Police is facing a funding shortfall of £10.3m in 2011/2012, following the government's spending review.