Widow of Nottingham stab victim Felix Akhigbe 'devastated'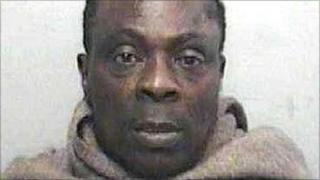 The widow of a man who was stabbed by a former friend in Nottingham has spoken of her devastation at his death.
Susan Akhigbe spoke of husband Felix's death a day after his killer was jailed for a minimum of 26 years, at Nottingham Crown Court.
Mrs Akhigbe said her two sons had been robbed of their father, by Raymond Iriogbe, 49, of Carlton Road, Nottiingham.
Mr Akhigbe, 35, was knifed in Lower Parliament Street, on 1 January 2011.
The trial heard Iriogbe, who denied murder, blamed Mr Akhigbe for a series of problems in his life.
'Kind and caring'
He waited for Mr Akhigbe to leave his job at a nightclub before following and then attacking him.
Following Iriogbe's sentencing, Mrs Akhigbe, who was pregnant at the time, said: "Our lives were devastated the night Felix was taken so suddenly away from us.
"Joshua will never know his father and he won't be able to experience first-hand the kind and caring person he was.
"It has been extremely difficult since Felix died and I miss him every day but I am trying to remain positive for the sake of my sons.
"I am glad that we have finally secured justice for Felix and his attacker is now in prison where he belongs."