University of Nottingham rowing team pass power record target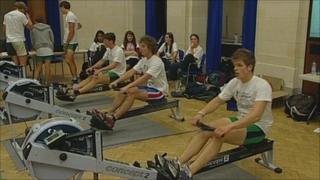 A team of rowers from the University of Nottingham have passed their world record target for generating electricity using only human power.
The team of 60 rowers, from the university's boat club, used five adapted rowing machines to produce 10 kilowatts within 24 hours.
The aim was to highlight how much electricity is needed to run a small family home for a day.
The record is to be independently verified by Guinness World of Records.
'Very daunting'
It is part of a week of activities at the university aimed at promoting the use of sustainable energy technology.
Mark Gillott, co-director of the institute of sustainable energy technology, said earlier: "What we want to do is demonstrate how hard it is to generate electricity using human power alone.
"We are trying to generate more than 10 kilowatt hours, which to put into perspective is the amount of electricity a small family home would use in a 24-hour period."
Jessica Fok, president of the university's boat club, added: "At first we thought it would be easy but now the prospect is very daunting.
"But the cause is a very good one - as well as helping the university, we are making people more aware of the need to create new ways of producing sustainable energy."