No IPCC investigation into Leighann Wightman killing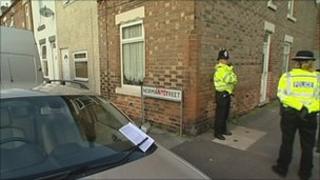 Events leading up to the killing of a Nottingham mother will not be investigated by the Independent Police Complaints Commission (IPCC).
Leighann Wightman, 24, was stabbed at her home on Norman Street, Netherfield, on 15 October.
Andrew Kemp, 48, from Vale Road, Colwick, has been charged with murder.
Police said they voluntarily referred the case to the IPCC as part of a new strategy over deaths which had a possible domestic factor.
A spokesman said: "The force voluntarily referred the case to the IPCC as part of its new initiative to ensure its action in relation to any alleged domestic homicide where the force has been in prior contact with either the victim or the alleged perpetrator are open to full and independent scrutiny.
"The move follows the report by the IPCC this week into the murder last October of Casey Brittle in Nottingham and the force's determination to radically improve its approach towards domestic violence."
On Tuesday Nottinghamshire Police were criticised in an IPCC report for their handing of the case of Ms Brittle, who was killed by her ex-partner despite extensive contact with officers.