Nottingham bank robbery images are released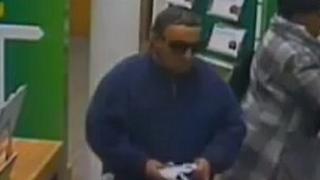 Images of a man wanted over two bank robberies have been released by police.
The suspect went into the Lloyds TSB branch in Lower Parliament Street, Nottingham, on 17 October and handed a cashier a note claiming he had a gun.
Officers said they were linking this with a similar robbery at Lloyds TSB on Low Pavement on 25 July.
The offender in both cases was described as white, aged 55 to 65, of stocky build, with dark hair - possibly a wig, and wearing large sunglasses.
In both instances the man made off with a large amount of cash.
Det Chf Insp Rob Griffin said: "The distinct similarities in the appearance and method of the offender in these two instances almost certainly points to the same individual as responsible for both robberies.
"Not only has the offender fled on both occasions with large amounts of cash, the cashiers who have been passed these threatening notes, and their colleagues, are being put through a terrifying ordeal, not to mention the innocent members of the public who were also in the banks at this time."