Homes evacuated over Selston gas cylinder fire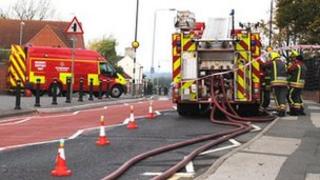 More than 50 people were evacuated from their homes because of a fire involving gas cylinders in Nottinghamshire.
Firefighters were called to a shed fire at Nottingham Road in Selston at about 02:00 BST.
Fifty-six residents had to leave their homes and a 200m (656ft) cordon has been put in place.
Two people were taken to hospital as a precaution. The fire is now out but firefighters are still cooling the acetylene cylinders.
Mark Dooley, from Nottinghamshire Fire and Rescue Service, said some residents had now been allowed back into their homes as the temperature of the cylinders was reducing.
Nottingham Road has been closed between the Langton Hollow and Mansfield Road junctions.
It is not yet known how the fire started.
The cordon is expected to remain in place until the early hours of Tuesday.