Sainsbury's plan for former West Bridgford pub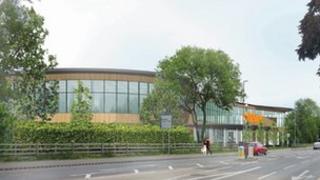 Supermarket giant Sainsbury's has unveiled plans for a new store on the site of a former Nottingham pub.
The proposed supermarket would be built on Wilford Lane in West Bridgford, on the site formerly occupied by The Chateau pub.
Sainsbury's said the new store would create about 350 new jobs and would be one of its most environmentally-friendly sites in the UK.
The plans go on public display at Rushcliffe Arena on 11 and 12 November.
A Sainsbury's spokesperson said the eco-friendly building would have a timber exterior and be fitted with solar panels.
The plans will also be available to view online from 3 November.