Appeal to trace car over fatal crash in Selston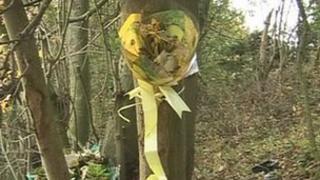 Police have issued a fresh appeal for three people to come forward following a fatal crash in Selston.
Vicki Dorman, 42, of Underwood, died when her Subaru Impreza left the road and hit a tree off the B6016 Langton Hollow on 24 September.
Officers said a small dark car was travelling near to the Subaru.
Det Sgt Ged Hazlewood said its female driver and two male passengers spoke to people at the scene before police arrived but have not come forward.
Det Sgt Hazlewood said witnesses reported the three people were in an excited and agitated state.
"Our inquiries are continuing and there is every likelihood we will in time locate them. Clearly it is to their advantage to come forward and explain what happened.
"Inevitably, as more time passes, our concern that these people may have reason not to want to speak to police grows.
"Furthermore, there will be someone out there who knows who they are, and I would urge them to come forward. Vicki Dorman has died and it is vital that anyone with information about what happened contacts us."