Row over hospital parking fees for blue badge-holders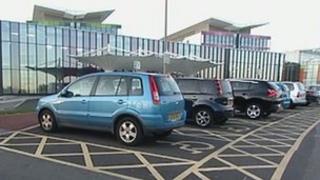 A Nottinghamshire MP is opposing a decision to charge blue badge-holders for parking at a county hospital.
Ashfield MP Gloria De Piero said the move by King's Mill Hospital near Mansfield to impose the charges was "not fair".
Sherwood Forest Hospitals Trust said the move was necessary to pay for parking facilities.
The hospital said cancer patients and kidney dialysis patients were exempt from parking charges.
The blue badge-holders will pay £1.50 an hour for parking or £3 for four hours.
Lucy Dadge, commercial director for the trust, said: "A recent poll locally suggested 90% of our population supports us charging for disabled patients and visitors in a manner that is equitable with all our other charging policies.
"It is not about income - it is about a fair charging policy and maintaining our high-quality parking."
But Ms De Piero said: "You can park anywhere with a blue badge but not at a hospital - this is just not right.
"Hardly any hospitals - only four or five - in this country charge disabled people."